News
2022.11.04
Transeuro will be at the Patent Information Fair and Conference 2022
We will hold a lottery at our booth at the Patent Information Fair and Conference
We are glad to announce that transeuro will be participating in this year's Patent Information Fair und Conference in Tokyo with a company booth. The fair will be held from November 9 to November 11 2022 in the Science Museum Kitanomaru Park, Tokyo. The Science Museum can be accessed from Kudanshita station or Takebashi station.
We are looking forward to meeting you at the booth. We would like to use this opportunity to introduce our translation services to as many attendees as possible.
We will be holding a lottery at the booth where you can win discount coupons for our translation fees of up to 50%. These are not limited to patent translations and can be used for any kind of translation we offer, e.g. for translation of homepages. Don't miss the chance to win the first prize.
Also, we will be giving out transeuro branded "rocking" water. Guests that visit our booth will get a bottle of the transeuro water for free.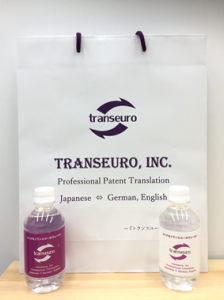 When you feel thirsty after having walked around at the fair the water that comes from Mt. Fuji is perfect for a short refreshment. (The water is flavorless and odorless.)
As supply is limited please come early.
If you are attending the fair, we would be glad to welcome you at our booth and talk in person. Our booth is situated in hall 4 as shown on the map below.